Distribution of organic and inorganic acids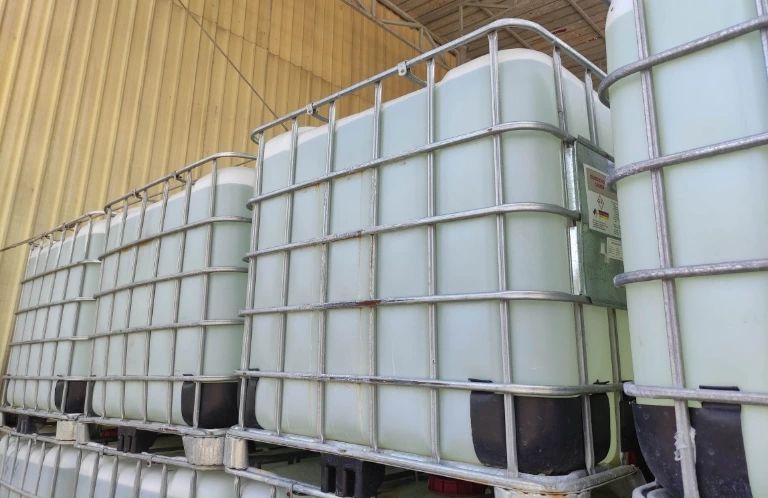 The acids we distribute are hazardous chemicals. Therefore, be very careful when using them and use them only as intended. Acids must also be provided with proper conditions:
It is advisable to store the substance in a designated packaging,
storage rooms must have proper ventilation,
Acids should be separated on the shelves from substances which they could react with.
Acids are hazardous substances. Improper storage, transportation and use of these chemicals can cause harmful health effects. To prevent acids from causing harm to humans and the environment, they must be handled with care. Below find a list of the acids available in our store.
Applications and properties of acids
We distribute many types of acids with various purposes and properties. Among the products available in our store you will find:
1. Formic acid
It is the simplest carboxylic acid. It is used in the agricultural industry, in food and chemical production and in beekeeping industry. It has corrosive and fungicidal properties. It is also characterized by:
good solubility,
density equal 1,220 g/cm³ (20 °C),
melting point of 8.3°C,
boiling point of 101°C.
Formic acid is frequently used as a preservative.
2. Acetic acid
We offer acetic acid compressed up to 50, 80% and 100%. It is a colorless, tear and easily solidified liquid. Like the sodium lye it is included in cleaning agents. It is used in heating boiler de-scaling technology, in textile industry, pharmaceutical industry and printing ink production.
3. Citric acid
It is a common ingredient in food products with acidifying properties. It reduces the pH and improves taste of food. It is also used to clean fixtures and de-scale washing machines.
4. Phosphoric acid
It is used in the refining of vegetable oils process, in production of food and cosmetics. It is an auxiliary agent for soldering. It is included in polishing and waxing substances.
5. Sulfuric acid
It is a highly corrosive liquid commonly used to treat surfaces, clean and etch and in the processing industry, also to adjust water pH and in fertilizers production industry.
6. Hydrochloric acid
Hydrochloric acid is used in both the food and industrial sectors. Moreover, this inorganic chemical is widely applied in the pharmaceutical and textile industries.
7. Oxalic acid hydrate
This substance has a wide range of industrial applications, including clothes dyeing, removing discolorations or bleaching of leather. Additionally, oxalic acid delays aging and browning of fruits.
See also: hydrogen peroxide
High quality formic acid - wholesale store in Łódź.
Tomchem has been specialized in distribution of acids since 2000. We offer, among others, formic acid, acetic acid or hydrochloric acid. Feel invited to visit our wholesale store located in Łódź. We serve many industries. Thanks to the fact that we cooperate with trusted manufacturers of acids, we can offer customers high-quality and safe products at competitive prices.
Formic acid, which we sell in our wholesale store, is an ingredient in many fungicidal and acidifying preparations due to its fungicidal properties. It can also be used as a preservative with fungicidal properties. Keep in mind that it causes severe skin burns and eye damage, so it is necessary to take precautions during use - including protective gloves, eye and face protection or protective clothing. The agent is used not only in beekeeping or food production. Formic acid is also used commonly in medicine as a vasodilator, in veterinary medicine as an acidifier, and in the dyeing industry for impregnating fabrics. If you are interested in placing an order, feel free to contact our wholesale store.
Acetic acid – Łódź
In the catalog of our wholesale store in Łódź you will also find the acetic acid. It is a colorless substance with a characteristic sour smell. Although it is classified as a weak acid, it should be remembered that it is also a corrosive substance. It is used in many industries - including textiles, pharmaceuticals, agriculture, as well as for water treatment, de-scaling or production of cleaning agents. In turn, in the cosmetics industry it is a pH regulator.
At Tomchem, we have been supplying specialty chemicals, including the acetic acid, from trusted manufacturers for years. We have been constantly expanding so we meet the expectations of many industries. Feel invited to contact our wholesale store in Łódź to specify the details of cooperation.
Hydrochloric acid - Łódź
Muriatic acid, also known as hydrochloric acid, is used in many industries - including pharmaceutical, textile and cosmetic. If you are interested in placing an order, we invite you to cooperate with Tomchem wholesale store in Łódź. We have been supplying high-quality acids to many local companies for years.
It is an inorganic chemical compound belonging to the strongest inorganic acids. A crucial information is that the hydrochloric acid dissolves the vast majority of metals. It is colorless and highly corrosive.
In the pharmaceutical industry it is used in the synthesis process of drugs, and in turn, in the textile industry it is an important ingredient used to clean and dye materials. In the cosmetics industry, the acid finds its use as a pH regulator of water. Hydrochloric acid is also used extensively in the electrical engineering - for the manufacture of integrated circuits, among other things. Regardless of which industry you work in, we guarantee efficient service and competitive prices at our wholesale store in Łódź. We invite you to cooperate with Tomchem!