Soda distribution - Tomchem company from Łódź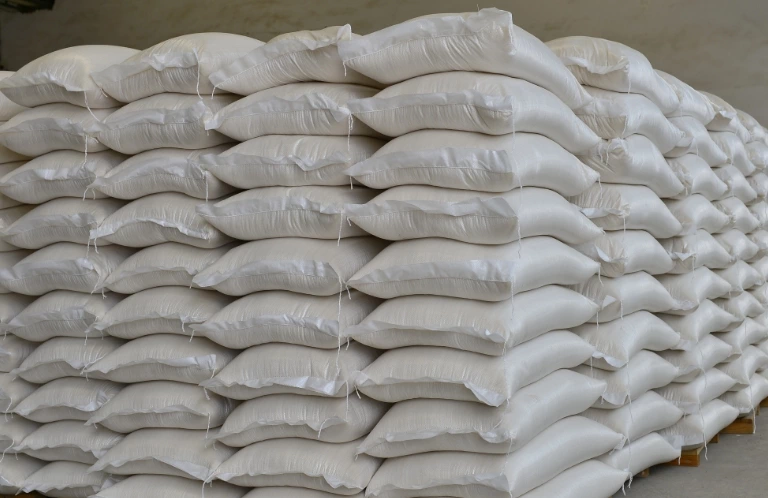 If you are looking for chemical soda, check application of the substance in advance. Poorly used soda can cause a number of side effects, including:
headaches,
nausea,
swelling,
muscle weakness.
So always check the manufacturer's information at the back of the package! This applies not only to soda, but also to the hydrogen peroxide water, acids and other substances.
We are engaged in the distribution of various substances. Our products are safely stored and transported. Thus, you can be sure that no undesirable substances get into the soda.
Soda lye - Łódź
In our wholesale store in Łódź you can find the soda lye. This is a substance that is formed by combining sodium hydroxide with water. It is a highly corrosive substance; it is odorless and tasteless with cleaning and disinfecting properties.
Soda lye is a solid with a density of 2.13 g/cm³. It is perfectly soluble in water, ethanol and methanol. Be sure to store this substance in tightly closed containers as it reacts with carbon dioxide from the air easily.
Soda lye is used in many industries. At Tomchem in Łódź, we cooperate with customers working in the chemical industry (e.g. for pipe drainage or disinfection) or cosmetics, among others. It is also worth remembering that the lye is also used in the food industry as an acidity regulator E524.
Caustic soda - Łódź
Would you like to order high quality caustic soda? We would like to invite you to Tomchem wholesale store in Łódź. We have been serving business customers working in various industries for years.
Caustic soda - otherwise known as the sodium hydroxide belongs to the strongest bases. This is because its pH is as high as 14, and its density is 2.13 g/cm³. It is a solid in the form of colorless crystals, pastilles or flakes.
Application of the caustic soda:
pipe unclogging,
Removal of paint and varnish from metal and wooden surfaces,
Disinfection of surfaces, removal of grease and microorganisms,
washing of paving stones.
Sodium hypochlorite - wholesale store in Łódź
In the catalog of our wholesale store you will find the sodium hypochlorite at competitive prices. It is a substance with strong oxidizing and disinfecting properties with a characteristic chlorine smell. It comes in form of a yellow solid or liquid with a celadon color with a tint from yellow to green.
Sodium hypochlorite is ordered from Tomchem wholesale store mainly as a disinfectant for surfaces, equipment and industrial installations. It is also a great bleach used in the textile or woodworking industry. This substance effectively and quickly destroys organic substances - all thanks to chlorine atoms.
Soda ash - wholesale store
We sell the soda ash - an inorganic chemical compound that consists of sodium and carbon monoxide. We invite you to shop at our wholesale store in Łódź. You will find that cooperation with Tomchem is a guarantee of attractive prices and professional advice!
Baking soda is used in many industries - including glass making, gelatin production, detergents or soil acidification. It's a more alkaline variety of baking soda, which is excellent at softening water and banishing tough stains.
Baking soda
Baking soda is used in the food industry for cleaning the stainless steel, glass and marble. It has a purifying and anti-inflammatory effect on the body. It is the variety of soda most familiar to customers, appearing in the form of white, single-stranded crystals.
See also: road salt
Soda water glass
Soda water glass is an additive to building mortars, cleaners and adhesives. It is used for fireproofing wood and fabrics. It provides excellent protection against moisture. Its density ranges from 1260-1710.
Anhydrous sodium sulfate
Anhydrous sodium sulfate is mainly used in:
medicine,
tanning,
whitewashing,
coloring,
paper making,
print,
food production.
Anhydrous sodium sulfate dissolves in water very well. However, it is not soluble in the ethanol.
Sodium persulfate
It is an ingredient in many cosmetics, used as a detergent, bleach and soil conditioner. It is an odorless solid that decomposes already under room conditions. Sodium persulfate:
it has strong oxidizing properties,
is non-flammable,
non-explosive,
irritates the skin.
Due to its properties, sodium persulfate has a wide range of applications.
Sodium formate
It is used in the chemical industry, for the chrome tanning of leather, as a paper impregnant and as a common additive to cattle feed. It is a white or nearly white, crystalline powder or melting granules. It is used to produce the formic acid and oxalic acid. It is an excellent food preservative. Sodium formate can cause skin and respiratory irritation.